The Elgaland-Vargaland national anthem is based on an old military march from 1709. The recording we are using is played by Kungl. Dalregementets musikkår (1941). The march is called "Stenbocksmarschen" and is still being played by military bands. Here is part of the score: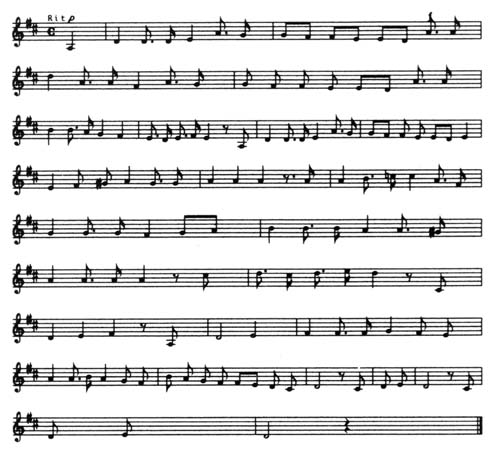 There are various versions available in various forms…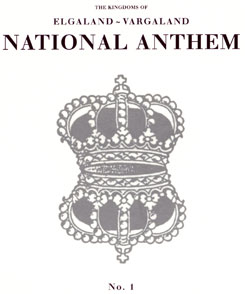 Leif Elggren and CM von Hausswolff – The National Anthem #1CD in plastic wallet + inserts
1 track, 63 minutes
Composed and recorded at EMS, Stockholm, February 1994 by Leif Elggren and CM von Hausswolff. Released on compact disc by Ash International in 1996.
First performed at Nordanstad Gallery, New York,March 24, 1994 in conjunction with the official inauguration of the General Consulate in New York City.
You can hear an extract here:
Then a series of 7″ vinyl records was released by Ash International: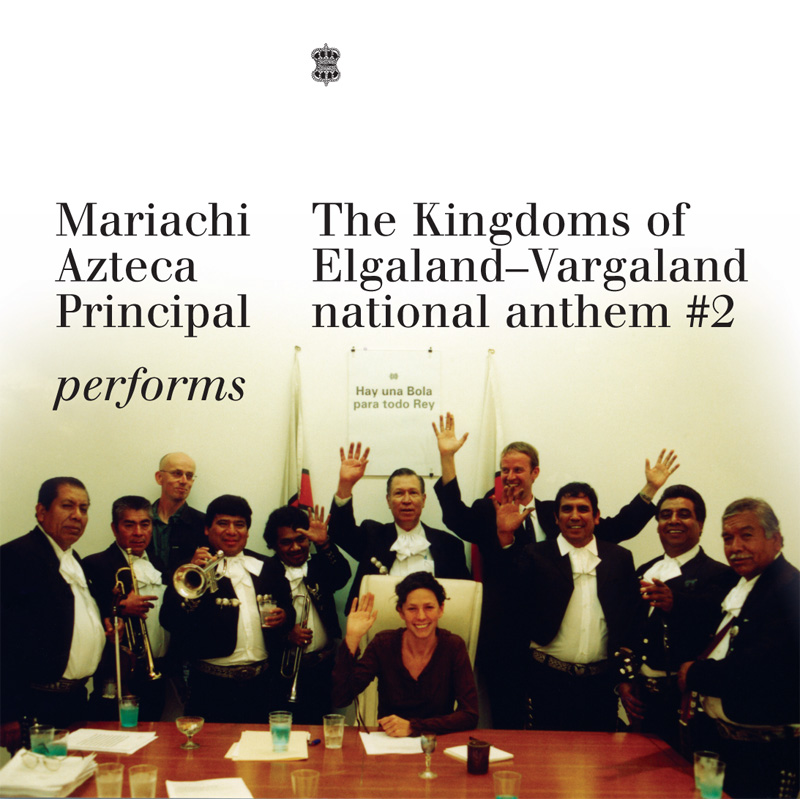 Mariachi Azteca Principal performs
The Elgaland-Vargaland National Anthem No: 2
Hand-numbered limited 7″ vinyl 45 rpm
Edition of 500
I:
a 2:01
b 1:11
II:
c 1:11
d 2:48
These recordings were made during the inauguration of The Embassy of The Kingdoms of Elgaland-Vargaland in Mexico City on August 30, 2002 in the presence of the KREV Ambassador Magalí Arriola and invited guests at Colima 244, Colonia Roma, Mexico City.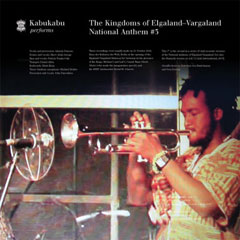 Kabukabu & Klezmer Chidesch performs
The Elgaland-Vargaland National Anthem Nos: 3 & 4
Numbered Edition of 500
A: Kabukabu perform The National Anthem No. 3
B: Klezmer Chidesch perform The National Anthem No. 4
These recordings were regally made on 21 October 2006, Haus der Kulturen der Welt, Berlin at the opening of the Elgaland-Vargaland Embassy for Germany in the presence of the Kings, Michael I and Leif I, Consul Hans Ulrich Obrist (who made the inauguration speech) and the KREV Ambassador Bernd M. Scherer.
This 7" is the second in a series of vinyl acoustic versions of the National Anthems of Elgaland-Vargaland. See also the Mariachi version on Ash 7.2 ~ Ash International, 2007.
Genuflections to: Dorothea von Hantelmann and Vera Dorsch.
Klezmer Chidesch:
Accordion: Jossif Gofenberg
Clarinet: Igor Sverdlov
Drums: Mark Szmelkin
Double bass: Alexander Franz
BERLIN KLEZMER: (the miracle called Klezmer) brings the most cheerful and heart-moving mood in the music halls with its rapid tempo. The four musical souls bring nostalgia, melancholy, love and amusement together in a feeling of life: The Klezmer. Their Klezmer music is particularly facet-rich, since all four musicians have professional music training and an experience of many years. The lovely Band from Berlin, that consists of trained musicians, who originally come from Ukraine and White Russia, plays the original Jewish instruments and the folks music of eastern Europe with a lot of soul and energy.
""We play very gladly at your weddings, birthdays and also all other occasions and guarantee for the fact that, our Jewish folks music that comes from the heart will inspire you will draw you along."
Kabukabu
BERLIN AFROBEAT DYNAMITE…
Vocals and percussion: Akinola Famson
Drums and vocals: Ekow Alabi-Savage
Bass and vocals: Patrick Frankowski
Trumpet: Daniel Allen
Keyboards: Matti Klein
Tenor/baritone saxophone: Michael Holder
Percussion and vocals: John Famodimu
2005, after the dissolvement of the then only afrobeat band in Berlin "Rhythmtaxi", the city witnessed the birth of a new offspring of Afrobeat family christened "KABUKABU"(a slogan used in Lagos / Nigeria for Buses used in transporting the masses. The bus not only transports people from one point to another, but also serves as a medium of desseminating news and messages to the people). A band formed by Akinola Famson, Ekow Brown and Patrick Frankowski (pillars of Afro and Reggae scene in Berlin) alongside with other international outstanding musicians, who have dedicated their artistic life to improving on the legacy laid by Fela Kuti "God father of Afrobeat" , an explosive combination of Westafrica rhythms with Funk and Jazz Americas. Irresistable groove travelling round the globe. KABUKABU stands out as the only unbeatable "Afrobeatdynamite". Through its new style of playing and the introduction of diverse musical acts as well as other indigenous percussive instruments, the band had added a new dimension into the way Afrobeat is being played, taking afrobeat to another level which conforms with the present musical demands of all music lovers without neglecting the original intention of "ANIKULAPO" the initiator . The band had created a musical delicacy termed "Explosive-Afrobeat" through its mix of HipHop, Reggae, Dancehall, Soul, Funk with african traditional elements. This new dimension enables the band to cooperate and work with other solo artist as well as Dj's and Mc's e.g. the collaboration work with exotical musicians like JIMI TENOR, TM STEVENS, MFA KERA…etc. With just one year of refining the left overs of Rhythmtaxi, KABUKABU's just finished EP with "3 delicious tracks" will be release soon. So stay tuned and watch out when next the rhythm bus is passing through your area.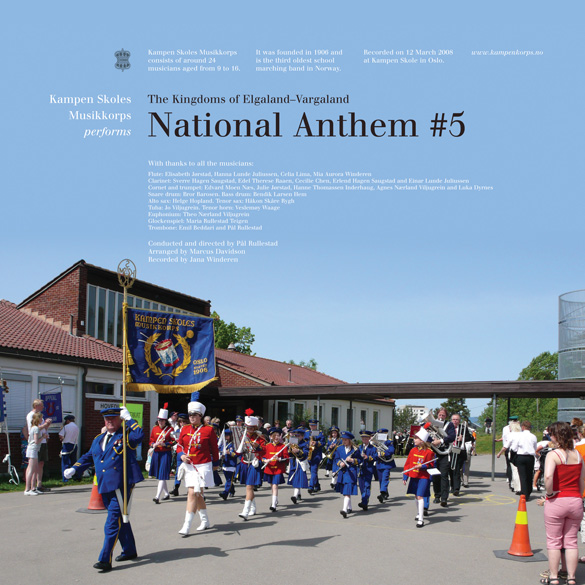 This 7" is the third in a series of vinyl acoustic versions of the National Anthems of Elgaland-Vargaland. See also the Mariachi version [Ash 7.2] and the Klezmer and Afrobeat versions [Ash 7.4], both issued in 2007 via Ash International
Numbered Edition of 500
A: Kampen Skoles Musikkorps performs The Kingdoms Of Elgaland-Vargaland National Anthem #5
B: The KREV Underwater National Anthem
Kampen Skoles Musikkorps consists of around 24 musicians aged from 9 to 16. It was founded in 1906 and is the third oldest school marching band in Norway. Recorded on 12 March 2008 at Kampen Skole in Oslo. www.kampenkorps.no
The KREV Underwater National Anthem was recorded under MS Reichenau on the occasion of the Annexation of the Bodensee (Lake Constance) including Überlinger See, Zeller See, Gnadensee, Untersee and the Insel Mainau (Island of Mainau), formerly a part of Switzerland, Austria, Germany, by the Kingdoms of Elgaland-Vargaland on Wednesday, 28 May 2008. In attendance were Kings Michael I & Leif I, The KREV Ambassadors for Basel, UK and Zürich; The Minister of Galleries and many others. Recorded using Dolphin Ear hydrophones and a Nagra Ares P–11 flash recorder whilst The Emmishofer Brass Band and The Diessenhofen Yodelling Choir performed… With thanks to Adrian Notz at Cabaret Voltaire, Richard Tisserand at Kunstraum Kreuzlingen and Stefan M. Seydel at (((rebell.tv))).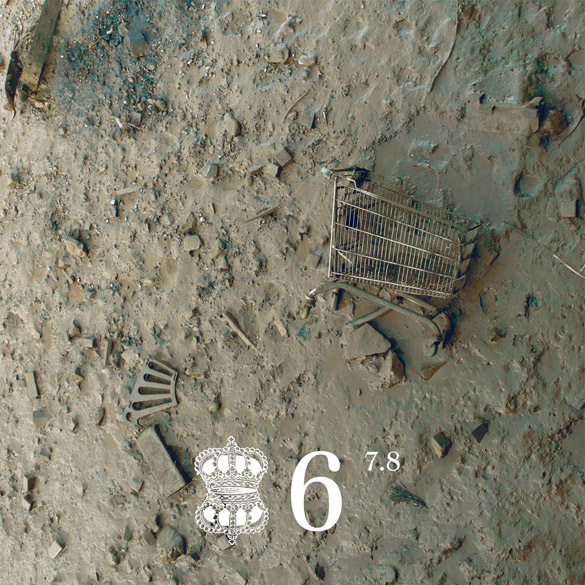 This 7" is the fourth in a series of vinyl acoustic versions of the National Anthems of Elgaland-Vargaland. See also the Mariachi version [Ash 7.2], the Klezmer and Afrobeat versions [Ash 7.4], and the Norwegian School Marching Band and Underwater versions [Ash 7.6] issued between 2007 – 2008 by Ash International.
These recordings were regally made during the unofficial inauguration of the KREV Ministry of Bankrupt Shopping Malls in Porto, Portugal, on October 10, 2008,
in the presence of the KREV Ambassadors Mike Harding and Heitor Alvelos.
Genuflections to the Future Places digital media festival, University of Porto Masters in Image Design and the University of Texas in Austin, and Transmedia Brussels.
Mixed by: Anselmo Canha, Heitor Alvelos, Mike Harding and Philip Marshall. Cut by Jason at Transition. Sleeve photography: Heitor Alvelos and Anselmo Canha.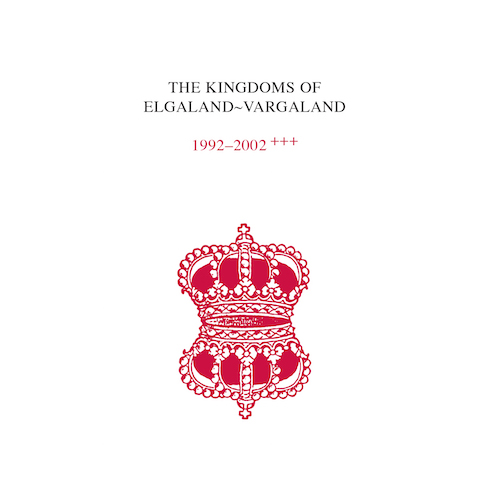 In 1992 a double CD package was released to mark the 10th anniversary of the kingdoms; this release contains various versions of the national anthems.
Double CD in oversized plastic wallet with two card inserts and KREV flag & Elgaland Vargaland logo stickers + insert photography by Annika von Hausswolff
Published this day the Twenty Seventh of May Two Thousand and Two by Ash International in conjunction with the 10th anniversary celebrations at Lydmar Hotel, Stockholm.
This release marks the tenth anniversary of the moment when. at 12 noon on 27th of May, 1992, the State Of Elgaland-Vargaland was proclaimed by Leif Elggren, founder of Elgaland, and CM von Hausswolff, founder of Vargaland.
1-1
Marcus Davidson

The National Anthem

2:23
1-2
Sten Hanson

Citizen Sit Down

4:58
1-3
Andreas Karperyd

Customers, Prospects, Partners And Competitors

3:14
1-4
Thomas Liljenberg

March

5:00
1-5
Heitor Alvelos

Involuntary Voice Projections

7:40
1-6
Mika Vainio

There Is A Land Behind Every Fridge

3:38
1-7
Ulf Bilting

KREVMORSE

2:01
1-8
B J Nilsen*

State Of Emergency

4:33
1-9
Egneken Montgomery*

A Holy Unproblematic Event

Finger Cymbals [Zils] – Andrea Vocals – Luna Vocals [Additional] – Eater

6:25
1-10
Unknown Artist

Home Rule

1:00
1-11
Ryoji Ikeda

Untitled 020402

2:49
1-12
Henrik Rylander

Feed

1:00
1-13
Mats Gustafsson

No More Coffee For King Leif I

Recorded By – Olof Madsen Vibraphone [Fluteophone], Performer [Cd Players], Turntables, Synthesizer [Siemens Ctk A5] – Mats Gustafsson

8:01
1-14
Bigert & Bergstrom & Richard Walton

Afternoon Birth

0:34
1-15
John Duncan

Territory

1:47
1-16
Per Svensson

Royal Explosion

Mixed By – Jean-Louis Huhta, Per Svensson Noises [Noise Grinder], Sitar, Loops – Per Svensson Vocals – Ebbot Lundberg

3:26
1-17
Johannes Heldén

What-Even

3:42
1-18
Oren Ambarchi

Excerpt From KREV Kids Celebration

1:12
1-19
Rozenhall*

Exile In KREV

3:02
1-20
People Like Us

The National Humm

2:20
1-21
Thanasis Chondros And Alexandra Katsiani

Mmm

1:00
1-22
Unknown Artist

What's Going On?

1:23
1-23
Olga Nane

The National Anthem

Recorded By – Thierry Weyd

1:19
1-24
Chris Watson

Beyond Ol Tokai Pt.1

3:58
2-1
Chris Watson

Beyond Ol Tokai Pt.2

4:24
2-2
Unknown Artist

An Ambassador's Lot Is Not A Happy One (Happy One)

1:10
2-3
James O'Rourke*

When I First Saw Phauss…

3:14
2-4
DJ Guacamole

The National Anthem – Sweet Chambers Remix

0:07
2-5
DJ Guacamole

The National Anthem – Ministry Of Broken Wings Remix

0:07
2-6

–

Johannes Bergmark

From The Coffin

5:36
2-7
Lary 7*

The National Anthem (Theremin Version)

3:39
2-8
AER

Soundtrack For Demonstrating The Brace Position

2:10
2-9
Kent Tankred

Information

6:02
2-10
Bruce Gilbert

Lullaby

3:09
2-11
Cecilia Heisser

Tracer (1)

1:37
2-12
Adam Hayward

Study For The Impossibility Of Science 1

1:02
2-13
Jean-Louis Huhta

Schlaraffenland

10:14
2-14
Edvard G. 'The First Of' Lewis*

Queen Becomes Citizen After 101 Years Of Babylonian Resistance

5:37
2-15
Maja Foss Hagerup

Maja Chants For Gaia

1:49
2-16
Paul Williams

Black Hair

1:00
2-17
Steven Travis Pope*

Gates Still Open: Eternal Dream 1

Computer [Computer-processed Voices], Sampler [Percussion Samples], Toy [Speak'nspell], Sounds [Synthetic] – Steven Travis Pope*

1:37
2-18
Steven Travis Pope*

Gates Still Open: Eternal Dream 2

Computer [Computer-processed Voices], Sampler [Percussion Samples], Toy [Speak'nspell], Sounds [Synthetic] – Steven Travis Pope*

3:58
2-19
Steven Travis Pope*

Gates Still Open: Eternal Dream 3

Computer [Computer-processed Voices], Sampler [Percussion Samples], Toy [Speak'nspell], Sounds [Synthetic] – Steven Travis Pope*

4:03
2-20
Steven Travis Pope*

Gates Still Open: Eternal Dream 4

Computer [Computer-processed Voices], Sampler [Percussion Samples], Toy [Speak'nspell], Sounds [Synthetic] – Steven Travis Pope*

1:37
2-21
Ingrid Engarås

Vibradisc

Recorded By – Agnieszka Lewalski

4:19
2-22
Fennesz

A Name With No Horse

1:20
2-23
Unknown Artist

Holy Water

0:25
2-24
Pontifex Maximus

Religio Tollendum Est

8:23
35 Anthems
The track list used for the exhibition at Narkissos Contemporary Art Gallery in Bologna April 7 – May 31, 2017.  http://www.narkissos.it/
1. Vlad Badin-Danil Dasyatov
2. Olga Nane
3. Al Margolis
4. Unidentified (Caen)
5. Unidentified (Biel-utopics)
6. Unidentified (alphorn) #2
7. Stephen Travis Pope #5
8. Sons Of God
9. Ditterich von Euler Donnersperg (Jürgenson Version)
10. Unidentified (alphorn) #1
11. Per Svensson
12. Lary Seven (Theremin)
13. Marcus Davidson #1
14. Mariachi Azteca Principal
15. Jugendmusik Biel
16. Juntaro Yamanouchi
17. Kabukabu
18. DJ Guacamole #1
19. Carsten Nicolai
20. Andreas Führer
21. Alan Courtis
22. CM von Hausswolff
23. Jacob Kierkegaard
24, Klezmer Chidesch
25. Lary 7
26. Michael Esposito/Leif Elggren(Spaghetti Western Mix No.1)
27. Stephen Travis Pope #1
28. Dave Philips
29. Marcus Davidson #2
30. Ditterich von Euler Donnersperg (Klopstock version)
31. DJ Guacamole #2
32. Kampen Skoles Musikkops
33. Hausswolff/Elggren (Short version)
34. The Underwater National Anthem
35. John Duncan
36. Thierry Charollais